Custom Follow Focus Gears
I manufacture custom follow focus gears for your cine-modded lenses. The gears are designed in a CAD-program after your measurements, they are then made with high quality, medium flexible and highly durable PBS-plastic. The gears are easily mounted and unmounted on the lens by hand and should sit tight enough so that there is no slip when focusing with a manual or motorized follow focus unit.
Measurements

Do the following measurements of your lens, preferably with a caliper. If you don´t have an caliper you can measure with this A4-printed diameter tape. It´s important with an accurate measurement for a perfect fit. If the gear is to tight to mount on the lens it is possible to sandpaper the inside rim to make it slightly more loose. If the gear is too big on the inside or loosing grip when moved fast I recommend using good quality painters tape or Tesa 4671 around the lens, under the gears, until you get a tight and even fit.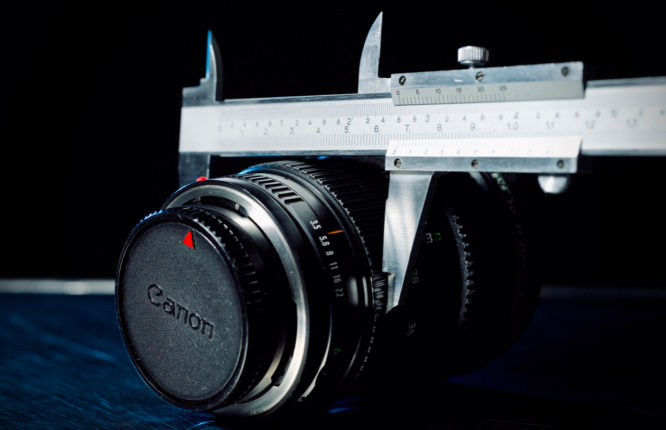 A. Diameter (mm) of the lens at the position for the follow focus gears.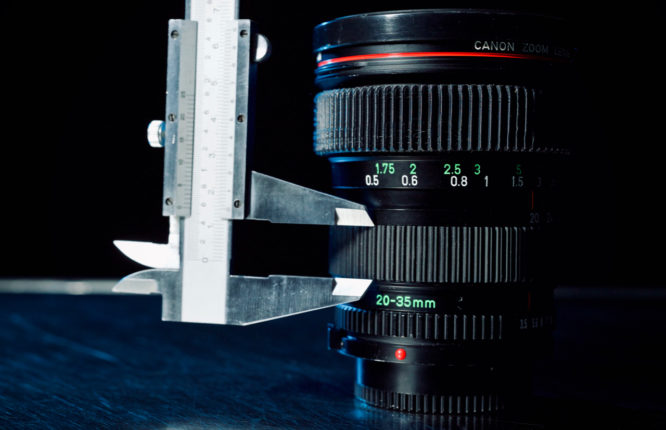 B. Width (mm) of the focus-ridges, or if opting for another size the width for your follow focus gears.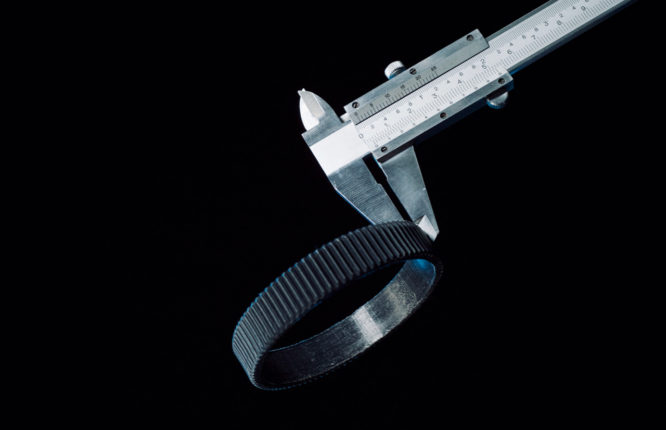 C. Normally I choose the amount of teeth in the gear so that the thickness of the gears are as thin as possible (like in the photo below). This makes the gears stick out as little as possible and makes for a slim design. But it is also possible to choose a custom amount of teeth for increased thickness of the construction, useful if you would like to match a set of lenses to the same gear size for fast lens change or have lenses with very small diameter. Include the amount of teeth or thickness in your order if you prefer this option.
Pricing
The price of custom gear vary due to the amount of time and material used for manufacturing. For the standard gear with slim design price is calculated by taking Diameter (mm) x Width (mm) x 0.02 = price in €. Gears with a custom amount of teeth (thickness) are priced via quotation.
Invoice and shipping
After an order has been sent via email I will confirm measurements and attach an invoice including calculated shipping costs. Payments within EU are made via PayPal, within Sweden to Bankgiro. Manufacturing are started after payment have been received. Companies ordering within EU can write their VAT number in the order-mail for a reverse charge VAT purchase. Shipping are made with DB Schenker and are traceable. Manufacturing time varies a lot depending on the flow of orders, but is within 1-3 weeks. The gears are custom made as per customer measurements and therefore not returnable.
Make an order
Send an email to ludvig@ikonokon.com with the following information (in English or Swedish):
*Amount of gears ordered.
*A – Outside diameter of the lens.
*B – Width of gears.
*C – Slim design or custom teeth/thickness per lens.
*Invoice address: receivers name, street and number, postcode/ZIP, country.
*Shipping address if not same as Invoice address.
*Telephone number and email for shipment notifications by Schenker.
*Optional VAT-number.